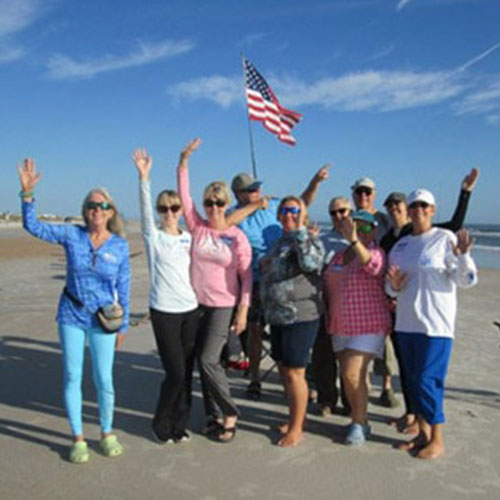 Outpost Angler Academy with Ladies Let's Go Fishing
Catch the Holiday Spirit on November 19 and 20th with a special holiday Outpost Angler Academy with Ladies of Let's Go Fishing! Guy Harvey Resort Pro Guide, Noel Kuhn, will be offering his popular Surf Fishing Academy on November 19 or 20th. Anglers can sign up for either day to learn how to become a better angler! On Saturday, November 20th registered anglers from either class can join us for a private tour of St Augustine's world-famous Nights of Lights on it's opening night. Come see why St Augustine Holiday Light Display is rated in the Top 10 of the World by National Geographic! Space is limited. Don't miss out on this popular weekend in St Augustine Beach.
Ladies Let's Go Fishing – Surf Fishing Academy : Register for the Guy Harvey Outpost Surf Fishing Academy on either November 19th or 20th. Instructions and surf fishing on the beach: 11:00 am – 3:00 pm. Limited to 10 anglers per class. Registration of $85 includes a free pack of Fish Bites & coozies! Instructed by Guy Harvey Resort Pro Guide Noel Kuhn.
Nights of Lights Tour (optional): Shuttle from the Guy Harvey Resort to downtown St Augustine and enjoy the Lighting Ceremony for Nights of Lights at the Plaza de la Constitución. Then enjoy a shuttle and tour of historic downtown from 7:00 pm – 7:45 pm to view glistening lights from ground to rooftops on a luxury golf cart. Tour fee of $35. Traveling with husband or friend? It's ok to sign them up for the tour too, please do so in advance! This sells out quickly and is limited to 20 participants.
INSTRUCTOR: Captain Noel Kuhn
DATE: November 19 or 20, 2022
SKILL LEVEL: Beginner to Advanced
CLASS SIZE: 10 Anglers per class
BOOK NOW and full info: https://guyharveyresortstaugustinebeach.com/catch-the-holiday-spirit-with-ladies-lets-go-fishing